Hi,
Server ist up and running, App hat auch schon Kontakt.
Nun wollte ich den 1. Testalarm versenden, hierfür braucht es ein Alarmierungsprofil nur leider kann ich dort anklicken was ich möchte, wenn ich speichere und wieder rein gehe sind alle regeln weg.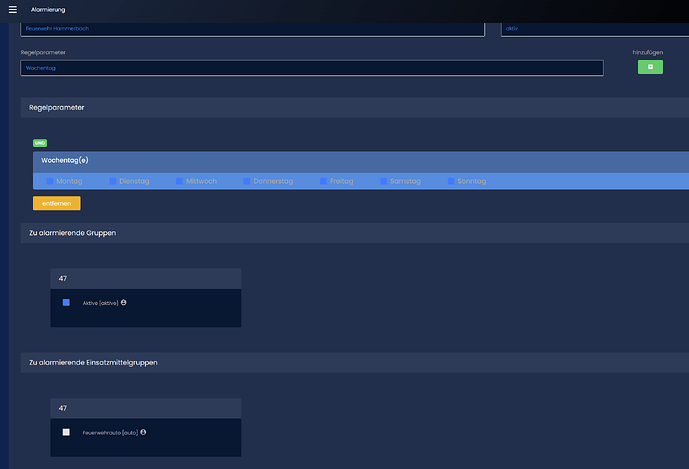 nach dem klick auf Speichern und anschließend bearbeiten sind alle parameter wieder zurückgesetzt.
im Log ist kein Fehler erkennbar:
alarmiator_service_1  | MODELS | RULEENGINE | operationId: 10
alarmiator_service_1  | MODELS | RULEENGINE | starting evaluating rule
alarmiator_service_1  | MODELS | RULEENGINE | evaluateOperationAgainstRules | CALLBACK | ruleResult
alarmiator_service_1  | SQL QUERY USERS TO ALARM: SELECT DISTINCT basedata.id AS basedataId, basedata.firstname AS firstName, basedata.lastname AS lastName,  basedata.uuid AS basedataUUID,  basedata.cellphone AS cellphone,  basedata.email AS email, alertdevices.state AS deviceState, fcmtokenStore.fcmToken AS fcmtoken,  fcmtokenStore.pluginNamespace AS tokenForNamespace, fcmtokenStore.state AS fcmtokenState, group_concat(DISTINCT xt_basedata_alarmings.pluginNamespace) AS namespace, organizations.name AS organizationname FROM alertrulesGroupsStore JOIN groups ON groups.id = alertrulesGroupsStore.groupId JOIN xt_basedata_groups ON xt_basedata_groups.groupId = alertrulesGroupsStore.groupId  JOIN basedata ON basedata.id = xt_basedata_groups.basedataId LEFT JOIN alertdevices ON alertdevices.basedataId = basedata.id  LEFT JOIN fcmtokenStore ON fcmtokenStore.deviceId = alertdevices.id  LEFT JOIN xt_basedata_alarmings ON xt_basedata_alarmings.basedataId = basedata.id LEFT JOIN organizations ON organizations.id = basedata.organizationid WHERE xt_basedata_groups.alarmMutedState = 0  AND ( alertrulesGroupsStore.alertRuleId = 1 )  GROUP BY basedata.id, fcmtoken ORDER BY basedata.id
alarmiator_service_1  | 16:24:00.011 [info] PLGMANAGER [MAILSENDER]     EVENT event_new_alarm recieved -> processing now
alarmiator_service_1  | Settings feedback from APRT which has been sent before creation of current operation

was mache ich falsch?
Grüße